PROFILE OF OUR CHIEF HONORARY ADVISOR
NAME:

JAYANT JAIN

DATE OF BIRTH
14 th. JULY 1957
EDUCATIONAL QUALIFICATION:
1.Bachelor of Technology in Mechanical Engineering from Indian Institute of Technology, Kanpur with I st. Division in 1979.
2.Master of Business Administration from Univ. of Rajasthan in Marketing Management in 1983.
JOB DETAILS:
1. Sales Engineer in Greaves Cotton & Co. Ltd from 1979-1980
2.Technical Consultant for for Small Scale Industries in State Bank of
Bikaner & Jaipur, a nationalized Bank 1983 onwards.
ASTROLOGICAL DETAILS
EXPERIENCE: Practising Astrology since 1985
FORMAL ASTROLOGICAL QUALIFICATION:
1. Jyotish Praveen from Indian Council of Astrological Science in 1994.
2. Jyotish Vishrad from Indian Council of Astrological Science in 1995.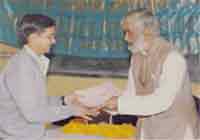 Mr. Jayant Jain being
honoured by Sh.K.N.Rao
NOTES : Mr. Jayant Jain, an outstanding Astrologer of Jaipur city in India has dedicated over fifteen years in practising astrology. Jaipur city has been a hub of astrological activities since it was founded. The astrological observatory built by the founder King of Jaipur city Maharaja Jai Singh in 17th. century has always drawn the attention and interest of astrologers .

An Engineering graduate from India's most prestigious "Indian Institute of Technology, Kanpur" and an MBA in Marketing Management , Jayant Jain became interested in Astrology. In 1989 he took up the challenging assignment as Honorary advisor in Janampatrika Computer Center, an astrological center of Jaipur City .Under
his able guidance , the center has grown multifold since then. In his distinguished career as Astrologer he has collected and researched over 30, 000 horoscopes and has cultivated an international network of friends and admirers.

"Between 1993 and 1999, Jain's articles were published in India's' reputed astrological magazines. His rashiphal became a regular feature in Jyotish Sagar. In 1994 he traced the transit of planets in context to individual birth charts.This created ripples in the media and was given wide coverage in almost all the news papers of India.

In 1998 he was associated in developing the web site of the astrological center. He has been providing consultancy from the web site since then. More than 5000 individuals have benefited from his advices through internet during this short span of 2 years. Through this web site addressed : http://members.tipod.com/~astrohoro one can even obtain his detailed annual forecast free .

Jain's father has been a noted Govt. Officer of Indian Administrative Service.His mother is also a talented palmist cum astrologer who specialized in marriage and health. It was she who introduced him to the field of Astrology.
Mr, Jayant Jain's experience in Indian Astrology and transforming it to the Internet is a very rare combination. He is well capable of providing complete guidance and consultancy for establishing and successfully running modern astrological centres any where in the world.